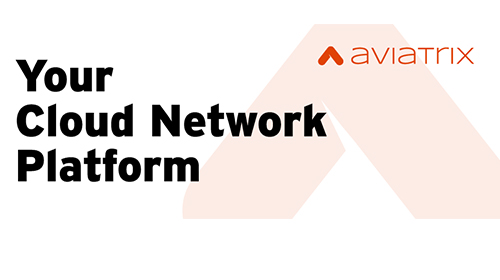 WHO WE ARE
Aviatrix is a well-funded, pre-IPO, hyper-growth enterprise-software company based in the heart of Silicon Valley (Santa Clara, CA). Aviatrix technology has proven solid at scale with nearly 600 enterprise customers, over 40 of the Global Fortune 500. We have a top-tier, experienced leadership team, combined with a collaborative culture built on proven success, trust, execution, and respect. We're focused on getting things done!
WHAT WE DO
Aviatrix is networking for the cloud era, delivering a superset of features and capabilities that leverage and control native cloud constructs and add advance network, security and operational visibility features that cloud providers lack, while maintaining the simplicity and automation enterprises expect in cloud. Aviatrix offers the industry's first and only multi-cloud networking certification (ACE), empowering IT to lead and accelerate the transformation to the cloud.
Read about our recent rise in value: https://www.bloomberg.com/news/articles/2021-09-08/aviatrix-funding-triples-valuation-in-seven-months-to-2-billion
ABOUT THE ROLE
We are looking for ambitious team players to join our cutting-edge customer success engineering team! The ideal individual will be highly motivated, self-directed, and have a desire to work on cutting-edge multi-cloud networking software. You must possess excellent analytical and communication skills and have a passion for delivering outstanding support.
As a Cloud Engineer, you will be a part of Aviatrix's Customer Support team. This position is a critical organization as a part of our customers' adoption of Aviatrix's enterprise multi-cloud Networking and Security Services Software.
You'll guide our customers for quick and consistent adoption, accelerated integrations with our multi-cloud software products, and real-time support and strategy to ensure our customers are satisfied with Aviatrix's products.
KEY RESPONSIBILITIES
Work closely with sales and engineering teams to manage, troubleshoot and resolve technical issues and questions from
Aviatrix enterprise customers
Report product issues to development and advocate for the customer to help Aviatrix deliver high-quality products
Create knowledge-based contents such as troubleshooting tips and best practices
Be the first line of defense in solving customer support requests, and coordinating and prioritizing timely resolutions with engineering and solution engineering teams
Provide "hands-on" support for the customers to solve production issues
You will bring solutions to the leadership team, feedback on solutions recommended
KEY REQUIREMENTS
Minimum 2-5 years of work experience in customer success, resident engineer, network engineer, or similar roles
Solid understanding of networking, Routing, BGP, IPsec VPN, virtualization, Linux, and infrastructure software
Experience with Amazon Web Services (AWS), Microsoft Azure, and/or Google Cloud Platform is a plus
Experience in configuring, testing, and troubleshooting various networking products/solutions (e.g., Cisco ISR routers, ASA firewalls, Meraki, Palo Alto Firewalls, Checkpoint, Juniper, Fortinet, Riverbed, Barracuda, Sonicwall, Aruba, Sophos)
Experience with Python, shell scripting, automation
Experience with security products is a plus
Ability to multi-task and work in a dynamic environment
Availability to provide after-hours support on a scheduled / non-scheduled basis
BS or MS degree in Computer Science, Math, related technical field or equivalent practical experience